Elf Bar 600 18mg 2ml Watermelon
Disposable ELFBAR 600 18mg 2ml Watermelon | Flavor of cool watermelon
Subscribe To When In Stock
You have successfully subscribed to this product
Elf Bar 600 18mg 2ml Watermelon | Disposable e-cigarette with up to 600 puffs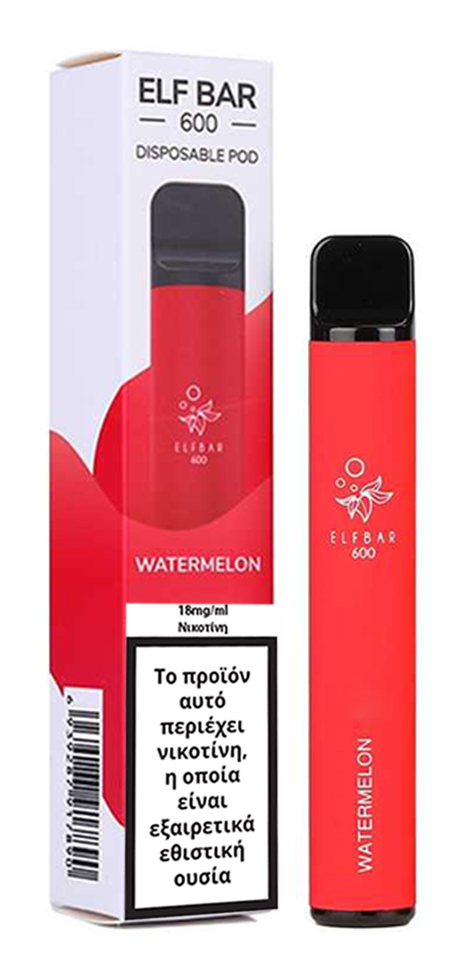 Flavor of cool watermelon
Height: 104mm
Diameter: 16mm
Contains 18mg of nicotine salts
 e-liquid: Pre-filled with 2ml
 Battery: Built-in 550mAh
It offers about 600 puffs

The Elf Bar 600 is a beginner-friendly incredibly portable device that has a bold design and compact size.
This kit supports about 600 puffs per kit thanks to the large 550mAh pre-charged battery, making it perfect for vaping on the go.
Each elf bar has 2ml of prefilled 18mg Nicotine salts e-liquid that brings you the best MTL experience with every inhale while keeping it completely mess and maintenance-free.
Data sheet
Battery Capacity

550mAh

Tank capacity

2ml

Nicotine

YES

Puff

600

Version

V1
Προγεμισμένη συσκευή ηλεκτρονικού τσιγάρου μίας χρήσης με υγρό αναπλήρωσης ηλεκτρονικού τσιγάρου Κίνδυνος. Περιέχει βενζοϊκή νικοτίνη, νικοτίνη. Επιβλαβές σε περίπτωση εισπνοής. Τοξικό σε περίπτωση κατάποσης ή σε επαφή με το δέρμα. Μακριά από παιδιά. ΣΕ ΠΕΡΙΠΤΩΣΗ ΚΑΤΑΠΟΣΗΣ: καλέστε αμέσως το ΚΕΝΤΡΟ ΔΗΛΗΤΗΡΙΑΣΕΩΝ/γιατρό. ΣΕ ΠΕΡΙΠΤΩΣΗ ΕΠΑΦΗΣ ΜΕ ΤΟ ΔΕΡΜΑ: Πλύντε με άφθονο νερό και σαπούνι. Φυλάσσεται κλειδωμένο. Διάθεση του περιεχομένου/περιέκτη σύμφωνα με τους τοπικούς/περιφερειακούς/ εθνικούς/διεθνείς κανονισμούς. Περιέχει μεθακρυλικό n-βουτυλεστέρα. Μπορεί να προκαλέσει αλλεργική αντίδραση. Τηλ. Κέντρου Δηλητηριάσεων: 2107793777 Συστατικά: Προπυλενογλυκόλη, γλυκερίνη, αρώματα, βενζοϊκή νικοτίνη, νικοτίνη. Περιεκτικότητα νικοτίνης: 18mg/ml Χορήγηση νικοτίνης ανά δόση: 66,67 μg/pu‹ Αριθμός παρτίδας: EP01675501 UFI: M7XG-F2A4-300F-3FPF Περιεχόμενα συσκευασίας: - Προγεμισμένη συσκευή ηλεκτρονικού τσιγάρου μίας χρήσης με υγρό 2ml, 1 τμχ - Ενημερωτικό φυλλάδιο, 1τμχ Χαρακτηριστικά: Μέγεθος: Ø16x104mm Χωρητικότητα μπαταρίας: 550mAh Εισπνοές (Pu‹s): Μέχρι 600 Υπεύθυνος διάθεσης: Κ110 ΙΚΕ Κ. Καρτάλη 110, Βόλος, Τ.Κ. 38221 Τηλ.: +30 2421030138 www.k110.eu | info@k110.eu